Sweets x Roy Purdy – Smiley Prime Kendama – CUSHION
Custom Roy Purdy Prime Kendama! The beech Prime ken features custom engravings and printing on the sarado, showing off Roy's signature glasses and more. The tama has incredible tracking with a Pink and Green half-split and a white 30% around the bevel. Finished with CUSHION Clear this dama is made to shred.
Includes replacement rainbow string and Prime sticker pack.
În stoc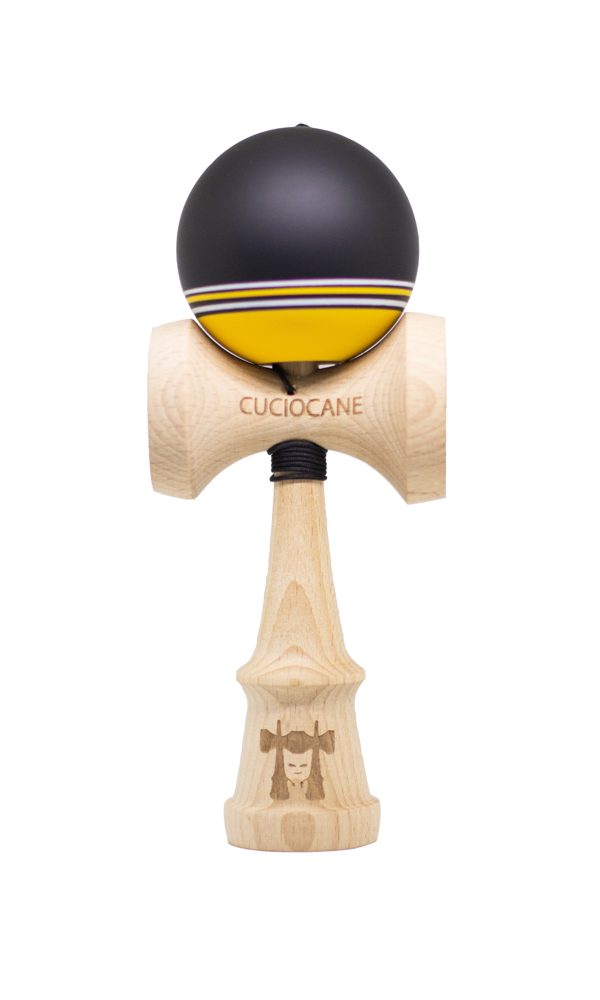 Discounts, Signature Series, CUCIOCANE
Suntem bucuroși să anunțăm noua colaborare dintre Sweets Kendamas și brandul românesc CUCIOCANE! Această kendama este realizată în laboratoarele Sweets! CUCIOCANE este un brand original românesc, înființat în 2017! Acesta are legătură directă cu kendama. Denumirea CUCIOCANE provine de la prima denumire folosită în Romania pentru kendama. CUCIOCANE V1 Stripes Tama este vopsită in culorile CUCIOCANE: Negru, Portocaliu și Alb. Tama are un design 70/30 cu linii între cele doua zone. Patea de sus care este 70% din tama este neagră iar partea de 30% este Portocalie. Între cele 2 zone se află 2 linii albe și una portocalie. Contrastul dintre negru și portocaliu este unul puternic care oferă o urmărire ușoară a tamei. Specificații Lemn de Fag (Beech) Ken-ul Lemn de Fag (Beech) Tama Vopsea Rubber Textul CUCIOCANE gravat pe Sarado Logo CUCIOCANE gravat în partea de jos a ken-ului Logo CUCIOCANE V2 gravat în interiorul cupei mari Ață neagră cu mini rulment Stickere personalizate CUCIOCANE Cutie PRIME CUCIOCANE personalizată Ață de rezervă neagră cu mărgea.
129,00

lei